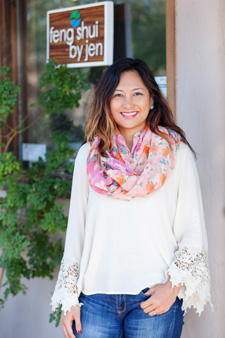 Accredited Feng Shui Master Title
On November 26, 2016, Jen was awarded the prestigious title of "Accredited Feng Shui Master" by Asia's International Feng Shui Association (IFSA). The title makes her the first and only professional to hold the title of Feng Shui Master in North America.
Over the last few years, Jen has devoted a tremendous amount of time and resources to establish a solid and reputable Feng Shui practice in the U.S., and has tirelessly mastered her skills in the three important subject areas of Chinese Metaphysics: Feng Shui, BaZi (Four Pillars of Destiny), and I Ching Divination. Her dedication does not only extend to "perfecting" the craft, but also by faithfully sharing and promoting the authenticity and beauty of these subjects in the West–a feat that is often met with obstacles and skepticism. But a mission worth pursuing!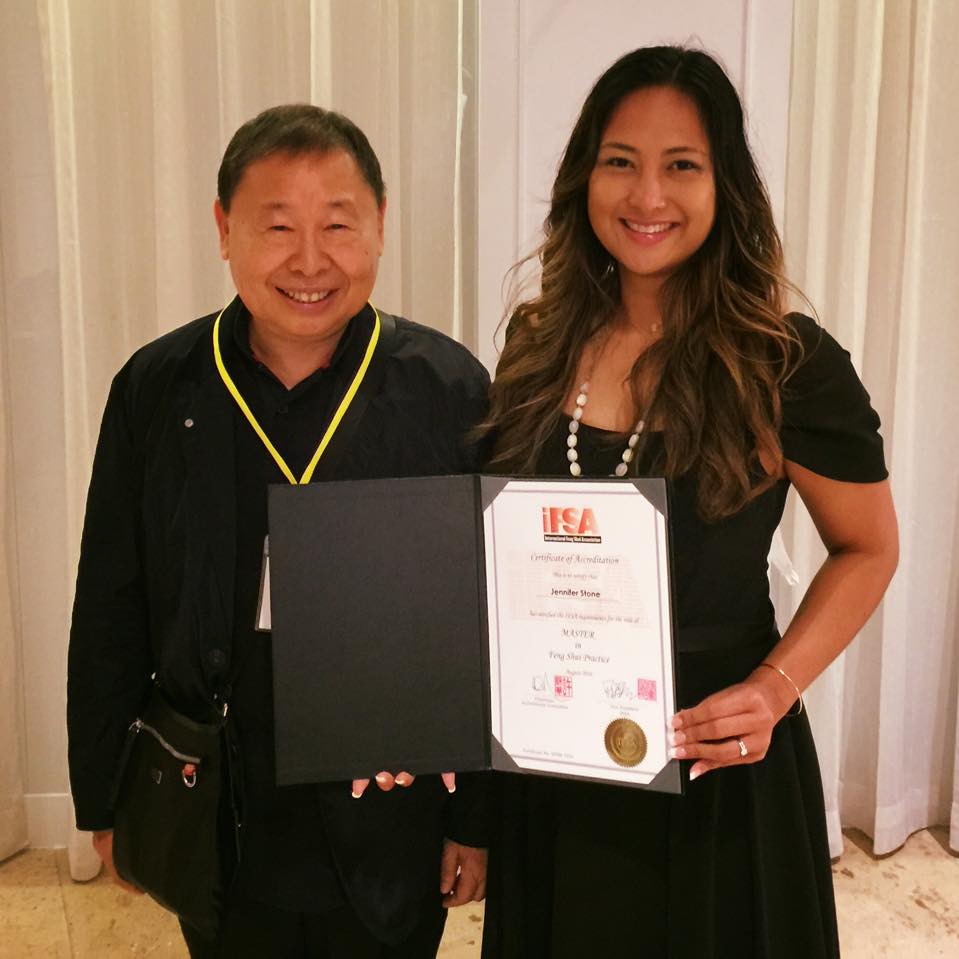 With Grand Master Raymond Lo.
"I am so proud of Jen's good accomplishment in her Feng shui career, and her Feng Shui master accreditation by the IFSA is very well deserved. Since she joined my training program in Hong Kong in 2013, she has devoted tremendous efforts not only in practicing the knowledge and skill, and also made great contribution in spreading and upholding the knowledge of authentic Chinese Feng shui in the USA, in face of obstacles and challenges. I feel very grateful for her support to the industry and congratulate her on the hard earned achievements." – Grand Master RAYMOND LO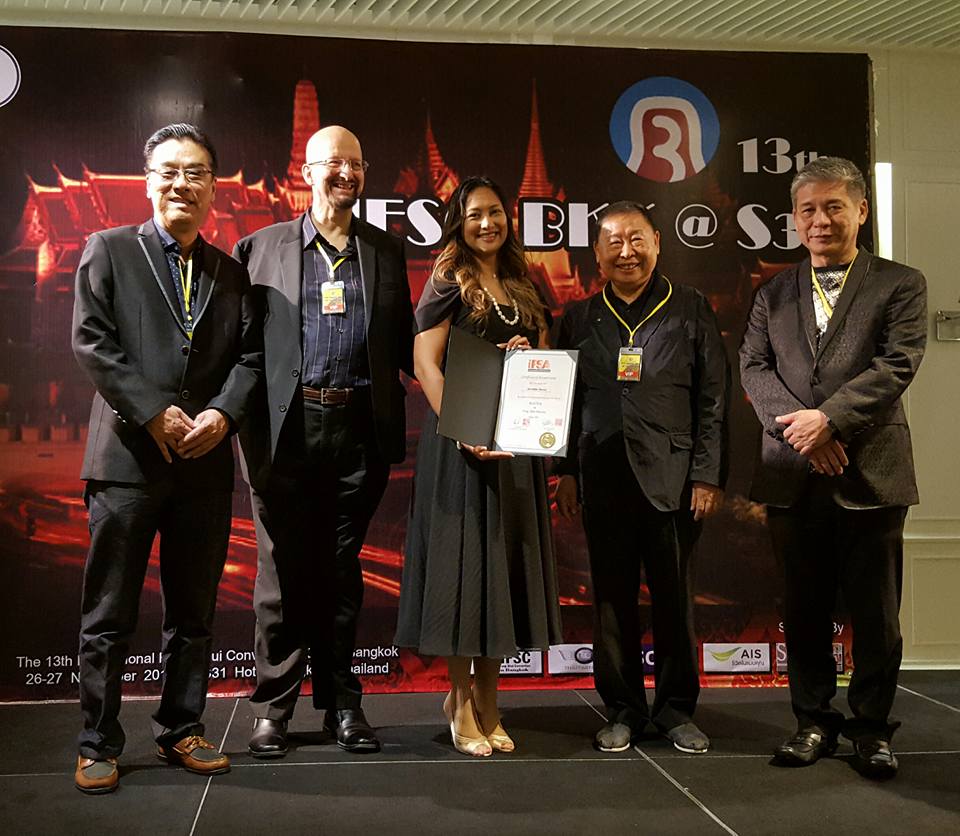 With Grand Masters Koh, Dr. Skinner, Lo, and Tan at the 13th Annual IFSC Convention in Bangkok, Thailand.
Feng Shui and BaZi Training Programs 
Known for her dynamic, honest, and refreshing teaching style and no nonsense approach, Jen has garnered a demand for more educational workshops on traditional Feng Shui, BaZi (The Four Pillars of Destiny), and other topics on Chinese Metaphysics. She targets every talk by highlighting the key components of the Eastern tradition and demystifying and debunking popular western myths. Jen's mission is to share the authentic practice responsibly and with integrity. See all upcoming Events.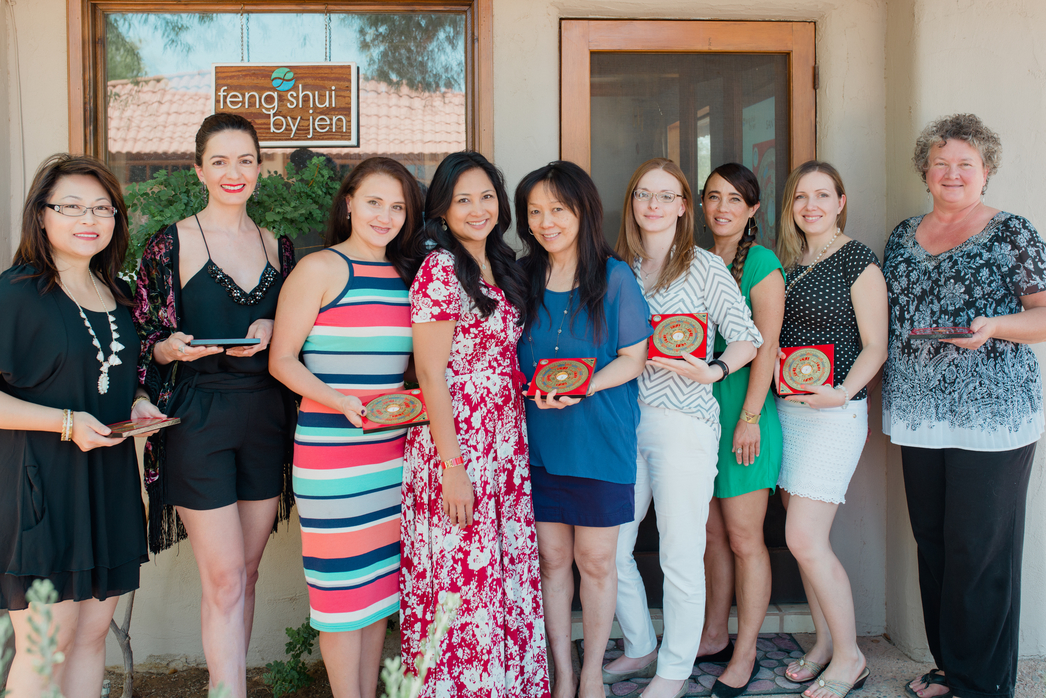 About Jen's Feng Shui Book
In 2014, Jen published her debut book, The First Guidebook for Feng Shui Enthusiasts, available on Amazon.com. This fun, introductory book demystifies popular Western myths, misconceptions, and "new age" ideas around this authentic, ancient Eastern practice, and clearly outlines the history and different schools and styles of Feng Shui.
It is a great and handy book for beginners and enthusiasts. Foreword written by Grand Master Raymond Lo. This book is also translated and available in French.
Her rise to popularity in the Classical Feng Shui community has brought a demand for education and authentic truth in the western world. Currently, Jen is working on her second book, set to be released in 2019.
Feng Shui Training & Background
Jen studied with many teachers in the past, but the most significant and influential teacher was when she trained with world-renowned Feng Shui and BaZi teacher, researcher, and lecturer, Grand Master Raymond Lo at the Raymond Lo School of Feng Shui and Destiny in Hong Kong. Her training included traveling with Grand Master Lo to Singapore, Dubai, Istanbul, Shanghai, and Tokyo, and he continues to mentor Jen in all areas of Chinese Metaphysics including Classical Feng Shui, BaZi, and I-Ching Divination today.
In 2013, Grand Master Lo hand-selected Jen to be his representative of the Raymond Lo School of Feng Shui and Destiny in the United States – an honorary title not held by anyone else in the United States. This was the most pivotal and important turning point in Jen's Feng Shui practice. She is also the only one authorized to teach Grand Master Lo's training program anywhere in the world. Certificates issued under her instruction are recognized by the School and endorsed by the International Feng Shui Association.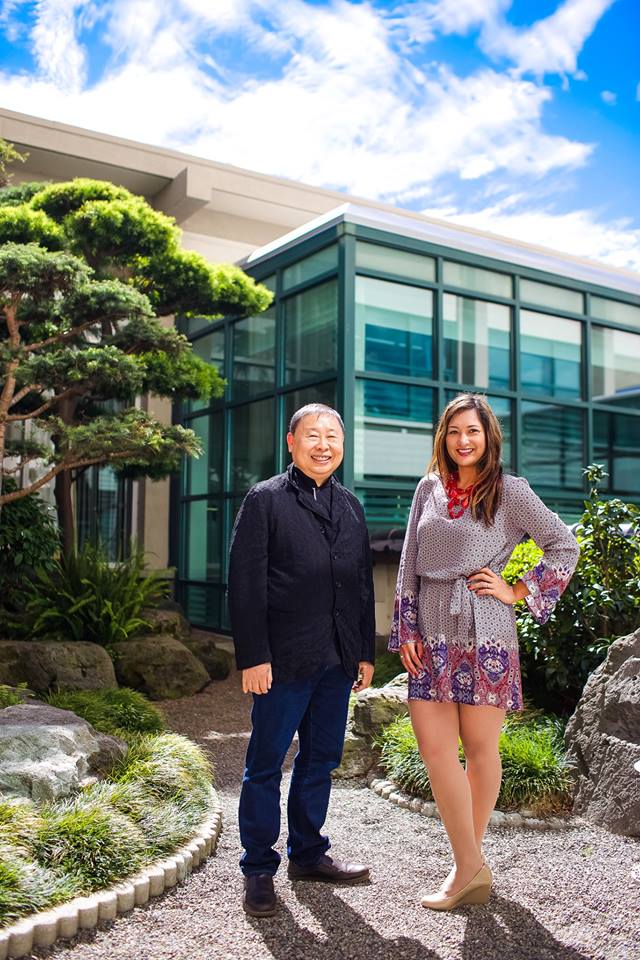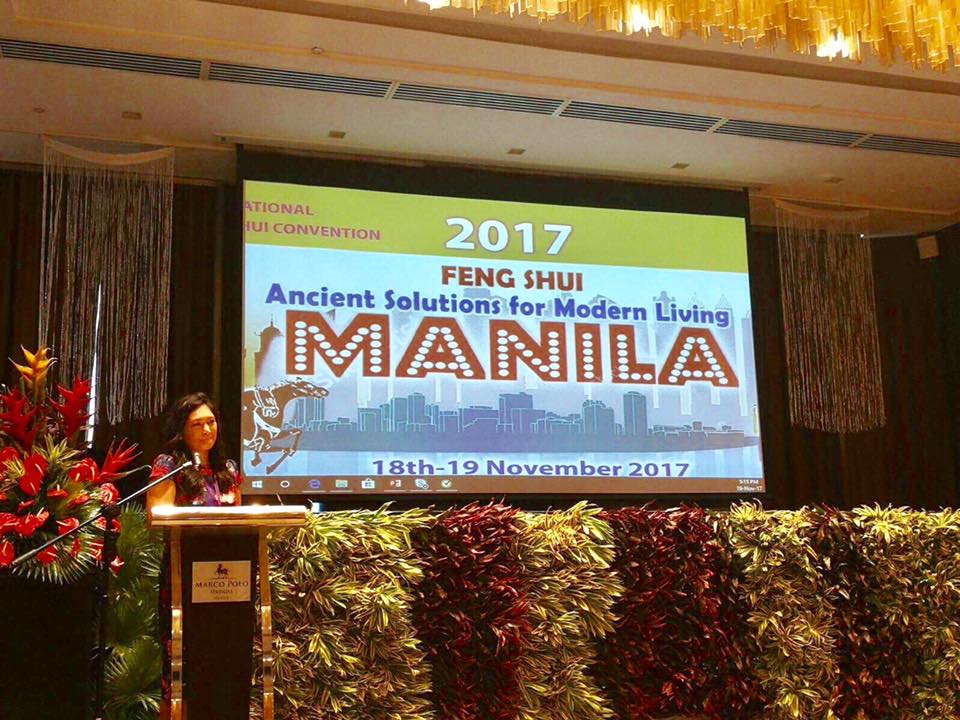 Public Speaking
Jen is also a sought-after speaker on Feng Shui, Real Estate, and other special topics. She has also appeared on numerous print ads, television interviews, and video tappings. Her expertise on the subject is often featured with emphasis on the application and evolution of Feng Shui today. "Jen has a particularly charming way of articulating the importance and integrity of what makes Feng Shui so real, while also keeping it humorous and memorable. All the while, she gives plenty of real-life practical examples that makes you and the audience want more!"
Feng Shui Journal
In December 2018, Jen launched a Feng Shui magazine called Feng Shui Journal. The genesis of the magazine is to collect meaningful contents and share valuable information on Classical Feng Shui and other related subjects on Chinese Metaphysics including Chinese Medicine, Face Reading, BaZi Four Pillars of Destiny, Qi Men Dun Jia, Feng Shui on Interior Design and Architecture, I Ching Divination, Palm Reading, and more. The magazine aims to highlight professionals and experts in their respective fields, including active students and loyal enthusiasts. Since there is a great demand for real time literature on Feng Shui in the West, Jen felt the magazine serves as a tool to help bridge beginners and experts together, and to promote global awareness on these important subjects with special emphasis placed on authenticity, tradition, and integrity. This triannual publication is available in print and online. To learn more, visit HERE.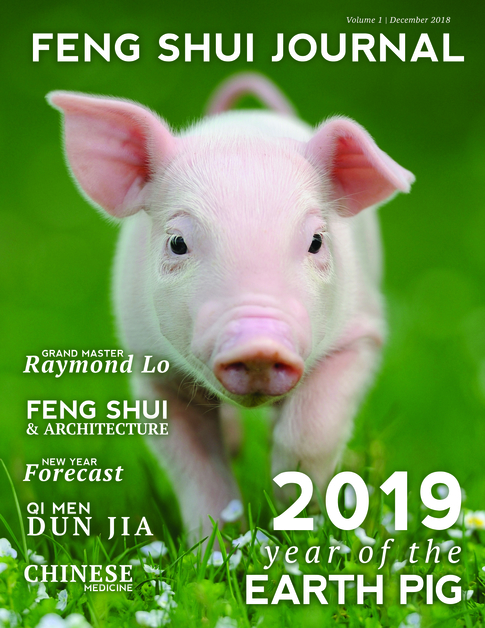 Writing, Feng Shui and Real Estate
Writing: Jen is a freelance writer and regularly publishes her articles on Facebook, MindBodyGreen, Feng Shui Today, and other online publications. Her writing has reached popular demand across the United States and many parts of the world. Most notably, she is known to have a savvy way of explaining complicated, technical Feng Shui subjects and turning them into a lifestyle piece without compromising on the integrity of the subject matter. Her monthly forecasts, educational tips, and myth-busting articles are among some of the popular subjects many people subscribe to. Check out her blog or Facebook page.
Real Estate: Jen is also a licensed Arizona Realtor for Scottsdale and the Phoenix-metro area.
Travels: Jen is constantly on the move, especially with her work for the Raymond Lo School of Feng Shui & Destiny. Check out all upcoming Events to see if she will be in a city near you!