BaZi Talk: Tina Turner – Queen of Rock 'n' Roll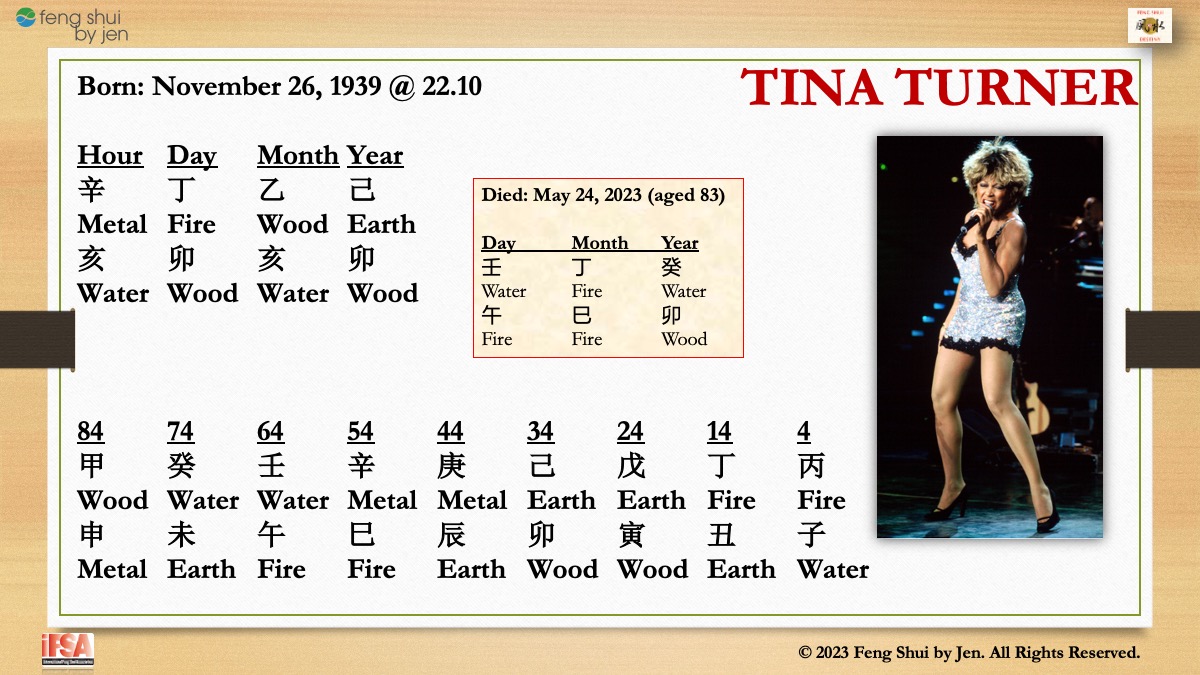 Another legend has left us. Don't you feel like Tina Turner has been around forever? Whichever generation you belong to, I'm sure you've heard at least one of her songs. The news of her passing not only shook the entertainment world, but it was a reminder that life is so fragile.
Tina's BaZi chart is Yin Fire 丁, like a candle. Born in the winter season, her Fire is quite weak and fickle, vulnerable to the life-sucking influence of the Water and Earth Elements. Her Favorable Elements are Wood and Fire. Her Unfavorable Elements are Earth, Metal, and Water.
Tracing her Luck Cycles from aged 4-14, the Luck of the Fire Rat 丙子 (Water) brings the Relationship Penalty (Rat-Rabbit 子卯), which caused significant frictions in her relationship within her family. Not only was she separated from her sisters to live with her paternal grandparents, later, her mother abandoned the family to escape her abusive father.
Her next Luck, Fire Ox 丁丑 (Earth), influenced her formidable years—and they were difficult times. She worked as a maid for a family and experienced her first loss with the death of her half-sister and cousins in a car accident.
While her personal life with Ike Turner is infamous, Tina achieved early and mainstream success during the Tiger 寅 (Wood) and Rabbit 卯(Wood) Luck Cycles. These two decades (aged 24-44) catapulted Tina's career and destiny in full throttle. What's more, she was also finally able to escape from Ike's abuse and regain her freedom and her life.
Tina's career resurged after the Tina/Ike breakup and reached superstardom with the support of the Fire Luck. She culminated her comeback with three Grammy wins and even starred opposite Mel Gibson in the post-apocalyptic film Mad Max.
While Tina did not have the most stellar relationship with Ike, she did end up having a beautiful romance with Erwin Bach, whom she married in 2013 after a 27-year relationship. She relinquished her US citizenship and became a Swiss citizen and remained there until her death.
Tina suffered from high blood pressure since the late 70's. This is aligned with her BaZi chart being weak Fire, which affects cardiovascular health that also leads to earth-related diseases such diabetes, indigestion, inflammation, autoimmune diseases, and cancer, to name a few.
In July 2013 (aged 73), the Year of the Water Snake 癸巳 (Fire), while the Fire Year was favorable (and the year she married), three weeks later she suffered a stroke (Fire Clash) because the Snake 巳 is a Clash to her Pig 亥 sign, which disrupted the Yin Wood Element that is supporting her Yin Fire. When the Clash occurs, the Yin Wood 乙 Heavenly Stem becomes weak and unavailable. Because this is her most critical support, the Clash year caused a significant imbalance. Her stroke left her needing to learn how to walk again.
In 2016 (aged 76), the Year of the Fire Monkey 丙申 (Metal), she was diagnosed with intestinal cancer (Earth disease), which only worsened. Earth-related disease is strong because she has now entered the Luck of the Goat 未, the strongest and most powerful (and most unfavorable) Earth Element. If you recall past teachings, the Goat is part of the Earth Penalty string (Dog 戌 + Goat 未 + Ox 丑). Her health only continued to deteriorate during this time and her (Yin Fire 丁) energy has waned.
The light extinguished on May 24, 2023, surrounded by a lot of Fire. This gives rise to the notion that perhaps her passing was peaceful and comfortable, just 6 months shy of her shifting into a new cycle. Nonetheless, the Snake 巳 month, again, was responsible for the Clash in her chart. Weak, she surrendered to her fate.
Rest in Peace to the Queen of Rock 'n' Roll. You are forever in a league of your own!
To learn your own BaZi Chart, click HERE to schedule your private session.
Copyrighted © 2023 | Feng Shui by Jen LLC | All Rights Reserved | Materials may not be copied, translated, or distributed without prior written consent.