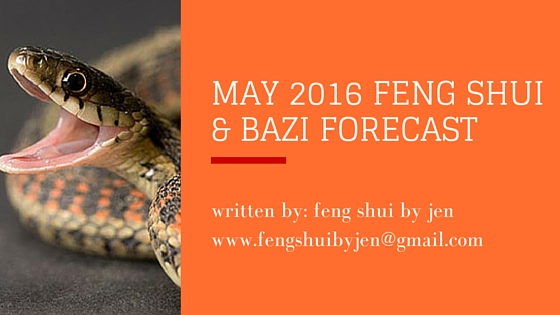 Due to my hectic travel commitments, this month's forecast will be short and sweet!
On May 5th, we welcome the Snake 巳 month, which is also the signal of the arrival of the summer season. The Snake 巳 is the 6th celestial animal in the solar calendar system.
This month is Yin Water Snake 癸巳 and the Elements sit in a conquering position (water 水destroys fire 火).
Because the Snake 巳 is a Yin Fire 丁 Element, the quality is more "fickle" and unpredictable. Hence, we will see some turbulence and conflict this month, especially as it relates to land accidents, fire disasters, bombings and explosions, and shootings.
Penalty: 
The Snake 巳 month will also combine with the Monkey 申 year. Therefore, for people with a Tiger 寅 Element anywhere in their Four Pillars (Year, Month, Day, Hour, or even in your Luck) must be extra careful this month because this will form a Fire Penalty. It is more concerning if your chart does not need Fire.
The Fire Penalty string will form like this: Snake 巳 + Monkey 申+ Tiger 寅.
Depending on where the penalty sits in your chart, it can stir up unnecessary worries and fear, anxiety and depression, and also accidents and setbacks. For some people, the whole year may already be a Fire Penalty; thereby, the Snake 巳 month could magnify the intensity of the penalty if you are not attentive to your personal affairs and health.
People born in Tiger 寅 Years: 1902, 1914, 1926, 1938, 1950, 1962, 1974, 1986, 1998, 2010.
To learn more about Penalty, click HERE.
Traveling Star:
The Snake 巳 is also a dynamic energy, forcing people to get up and move! If you have any one of these animals in your Four Pillars, expect this month to be a lot busier and more hectic.
Traveling Star Month if you were born on the Year or Day of:
Pig 亥 + Rabbit 卯 + Goat 未
Watch out for the Pig 亥, especially if it sits in your Day Master since the Snake 巳 will clash directly against it. Carry the pendant of a Monkey 申 to help minimize this clash.
To learn more about Traveling Star, click HERE. To learn more about Clash, click HERE.
Nobleman:
Alas! This can be a smooth(er) month for you if the Snake 巳 is your Nobleman. While Nobleman does not always have to mean ease and "fluff," the helpful energy is there to carry you through the month when you need it. Nobleman is hard to come by, so don't waste it if it belongs to you!
This is your Nobleman month if you were born on the Year or Day of Yin Water 癸 or Yang Water 壬. The "abbreviated" way to derive this is if your Birth Year ends in 2 or 3. For example: 1952, 1953, 1972, 1973, etc.
To learn more about Nobleman, click HERE.
Flying Star Update:
This month, prosperous Star 8 will sit in the center position. Areas of concerns include the Northeast and Southwest.
Northeast: Monthly Star 2 (sickness) will connect with Annual Star 5 (misfortune), stirring up more harm to the health and body. If this is your bedroom, place 6 metal coins to suppress this negative energy. Ideally, it's best not to do any important functions in this sector this month.
Southwest: Visiting Star 4 (misfortune) is causing trouble here this month. Place 6 metal wind rod chime to subdue its effects.
Other cures include placing 3 bamboo sticks in the East (6) and Southeast (7); and placing a red envelope/fire element remedy in the South (3) and North (4).
Be careful how you use and activate the "good" stars 8 and 9 in the center and Northwest, respectively. Generally speaking, 9 should be OK with the support of Annual Star 3 (Wood 木 supports Fire 火); however, you need to always revert back to the base chart of your home or office in order to carefully assess how to strategically utilize the good influences this month.
Interested in a residential or business Feng Shui consultation with me? Please click HERE.
Want to learn more about your personal BaZi? Please click HERE.
Upcoming Events:
5-Day Feng Shui Training in New York: June 4-8, 2016
5-Day Feng Shui Training in San Francisco, August 5-9, 2016
www.FengShuibyJen.com | [email protected]
Copyrighted © 2016 | Feng Shui by Jen LLC | All Rights Reserved | Materials may not be copied, translated, or distributed without prior written consent.