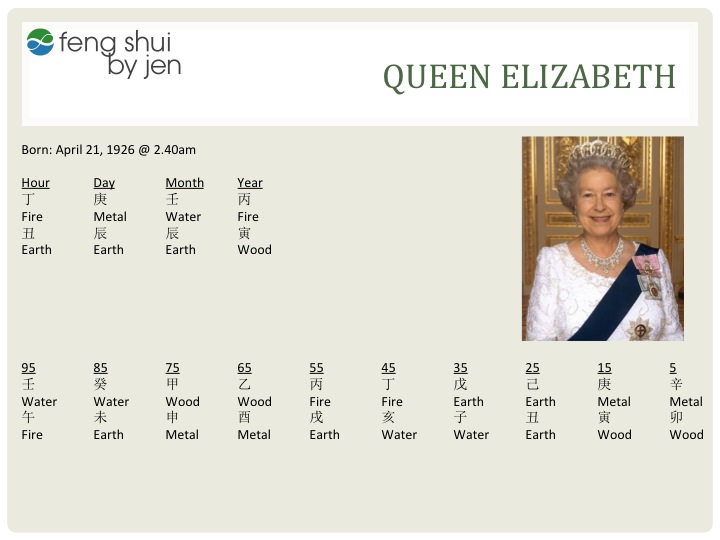 A monumental birthday to the Queen of England! Queen Elizabeth II turns 90 on April 21st!
To celebrate, we're going to have a look at her BaZi (Four Pillars of Destiny)–and because that's what we do at Feng Shui by Jen! 🙂
The Queen's self element is strong Yang Metal 庚 because she was born in the Dragon 辰 month–a strong Earth element to support her Yang Metal 庚. Therefore, her favorable elements are: Water, Wood, Fire.
A Yang Metal 庚 person is known to be like a hard piece of metal or steel. They exhibit warrior-like qualities; as such, often are advocates for the weak and make for a great leader. They are also loyal, fierce, altruistic, and seeker of justice and fairness.
The Queen was also born "Fai Kong" ?罡, which means she was born a very tough lady. Her fundamental character (or essence) inside is a strong fighter–she has an incredible will to survive and persevere. This characteristic shows up because she is a Yang Metal 庚 person born with two Dragons 辰 appearing in the month and day pillars.
The Queen is famously known to rarely give public interviews and often displays a stoic and controlled demeanor, giving the public very little information about her true feelings. Her chart is dominated mostly by "cool" elements where she also lacks any Fire (warmth); hence, people generally view her poised composure to appear a little too cold or closed off.
I'd like to highlight her life during the 80s because this was perhaps the most difficult time in the Queen's life, at least publicly. Not only did the royal family suffer increased public criticism as the personal and working lives of her children came under media scrutiny, she also survived an assassination attempt (also on a Dog 戌 day) when the assailant fired 6 blank shots at close range, six weeks before the wedding of Prince Charles and Lady Diana. And yes, it is known that the wedding of Prince Charles to Lady Diana caused a lot of anxiety.
These events occurred when she was in the luck of Yang Fire Dog 丙戌 (aged 55-65). This 10-year timeline was especially hard because the Dog 戌 (Earth) luck was quite strong (with the support of Fire on top). Furthermore, this was also a double clash to the Dragon 辰 in her Four Pillars, causing a lot of turmoil and worries.
Anyway, now the Queen is 90, which is in the middle of her Yin Water Goat 癸未 Luck (age 85-95). I think as we approach 2018, the year of Yang Earth Dog 戊戌 year, we will see a significant shift in the Queen's life, including her role as the reigning queen. But okay, the Goat 未 is still her Nobleman…
Year 2018 will form an Earth Penalty when the year arrives and this will affect her Hour Pillar significantly. The Earth Penalty formula is like this: 未 Goat + 丑 Ox + 戌 Dog. Perhaps she will pass her throne to Prince William, bypassing her son, Prince Charles. Coincidentally, Prince William's luck is also shifting in two years' time, to his Power Element time–he could be the new KING!
"I declare before you all that my whole life, whether it be long or short, shall be devoted to your service and the service of our great imperial family to which we all belong." – Queen Elizabeth, 1947
Copyrighted © 2016 | Feng Shui by Jen LLC | All Rights Reserved | Materials may not be copied, translated, or distributed without prior written consent.