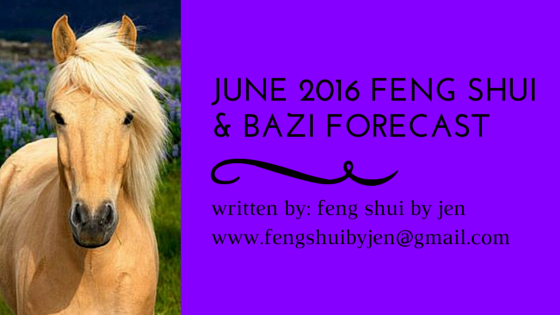 The Horse 午 Month graces us all on June 6th. That means, I have survived my clash 🙂 I had a very busy–but productive–trip to Hong Kong and London and enjoyed a wonderful time in my birth country, reconnecting with old friends and Grand Master Lo and meeting new friends. I believe all that traveling helped ease me through my personal clash month.
New month, new energy. Time flies when you're having fun!
So here we are, approaching the peak of the summer season. Do you remember 2014? Perhaps some of you might want to forget that year altogether. But I'm bringing it up because the Elements this month will be the same as 2014–Yang Wood Horse 甲午. Therefore, if you had a rough year, take the coming month in strides knowing that the discomfort is a short one. Conversely, if you had a flying-high year, take every chance to seize and optimize on your good luck. Bearing in mind that even though we may not be able to change the Elements and its inevitable arrival and influence, we can certainly change ourselves and how we perceive the experiences and lessons that come to us.
Meaning of the Elements
Yang Wood 甲 is the Heavenly Stems 天干 and this is often compared to a tree. For Yang Wood 甲 people, they are honest, kind, reliable, and trustworthy. And they often value the fundamental idea of right and wrong. Because they consistently uphold their understanding of what is right, to others, they can come off a bit stubborn, inflexible, rigid, and uncompromising–standing their ground to what they believe how "the way things should be." That's why, the spirit of a Yang Wood 甲 person can be charitable and hard-headed at the same time.
To communicate effective with a Yang Wood 甲 person, it is best to address the situation not in a confrontational, head-on kind of manner. It is ideal to "plant the seeds" and allow them the time to digest new ideas that are unfamiliar to them, especially if it is outside of their comfort zone. It's not that they are unwilling, they just need time to come around.
Other famous Yang Wood 甲 people include: Elvis Presley, Kate Winslet, Keanu Reeves, Kyriakos Mitsotakis, Michael Jordan, Bruce Lee, Kristin Stewart, Whitney Houston, and Calista Flockhart, to name a few.
This month, Yang Wood 甲 sits on Horse 午–a Fire Element–in a supportive and harmonious relationship 生. Even though Yang Fire 丙 (on Monkey 申) in the year is quite weak, the relationship dynamic of the month, as well as the strength of the season, will give support to the Fire 火. More on this later.
Horse 午 is the seventh Earthly Branch 地支 in the celestial animal order of the Chinese Hsia Calendar. It also represents the peak of the summer cycle. That's why the Horse 午 is considered the strongest Fire 火 Element in the season. And with Yang Wood 甲 sitting on top, the strength of the Fire 火 energy will come alive again in this short window of time.
BaZi 八子 Forecast
The Fire 火 energy this month will be strong and its strength, though brief, will also support the Yang Fire 丙 in the year. With that said, the interim surge will inflict moments of chaos and fighting. While the overall emotions around the season will incite feelings of optimism and confidence, it will be a temporary and superficial event.
Five years ago this time, also a Yang Wood Horse 甲午 month, spawned a number of monumental world history events. Most notably, Arab Spring. On June 12, 2011, thousands of Syrians flee to Turkey as Syrian troops lay siege to Jisr ash-Shugur. No doubt this mirrors similar events occurring in the Middle East today.
In addition, we have to pay special care with the movements of mother nature. This season will activate certain fire-wood related disasters, including volcanic eruptions, bombings, wildfires, wind/tornados, etc. Because the Water 水 Element is still scarce, the imbalance will also show water-related problems such as drought and/or heavy rainfall and storms.
Five years ago, the world witnessed Chile's Puyehue volcano eruption, causing air traffic cancellations across South America, New Zealand, and Australia, forcing over 3,500 people to evacuate their homes.
While there were no reported deaths, this eruption was memorable nonetheless. Experts estimated that about one hundred million tons of ash, sand, and pumice were ejected–requiring power equivalent to 70 atomic bombs! Moreover, the ash cloud had traveled and completed its cycle around the world. Scary but impressive! 
Interestingly, it was recently reported that another deadly volcanic eruption in Indonesia leaves the entire village swamped by ash. So, we will watch out for similar activities in the coming month.
Feng Shui 凤水 Forecast
Visiting Star 7 takes center stage. This carries the symbolic meaning of scandal and conflict. Since this will temporarily connect with Annual Star 2 (Earth 土) , the negative energy of 7 (Metal 金) will be disturbed and activated.
East (9,5): Be mindful of Fire 火/Earth 土 related incidences in the East sector when Misfortune Star 5 connects with Annual Star 9. Even though the East could be a prosperous area, the arrival of 5 will create mishaps and disaster. Why? The strength of 9 (Fire 火) supports 5 (Earth 土); therefore, increasing the negative energy of 5. Place 6 metal rod wind chimes or bells in the East sector to cure Misfortune Star (5).
West (4,9): The prosperous area can be found in the West this month. Annual Star 4 will connect with Monthly Star 9. The energy of 4 (Wood 木) gives strength to 9 (Fire 火). How you activate the 9 will also depend on your base chart at home, but the West side of the globe may show some positive improvements this month.
Center (2,7): The Center can create lots of conflicts and fighting. Since the Middle East and China take the Center position, we forecast the intensity of the fighting to increase. The strength of 2 (Earth 土) supports 7 (Metal 金). For your home, place 3 bamboos in a clear glass vase with water in the Southeast and Center Sectors to minimize the outdated Metal 金 energies (6 and 7). You may also use yin water such as salt water or 1 black fish.
Other cures this month:
Place 6-metal coins in the South sector to suppress the sickness energy.
Place a red envelope (or lucky "lai see") in the North and Southwest sectors to neutralize the outdated Wood 木 energies (3 and 4).
Interested in a residential or business Feng Shui consultation with me? Please click HERE.
BaZi 八字 for People
You may click on the links below to learn more about the meanings of the symbolic stars.
Want to learn more about your personal BaZi? Please click HERE for a BaZi consultation with Jen!
Myth Busting
Contrary to mainstream understanding, BaZi forecasting for people is not done based on the person's year of birth. Instead, the analysis–or Destiny Reading–is based on the person's DAY of birth; hence, the term "Day Master." This is the Tsu Ping 子平 way. So be careful how you conjure up information on the web since most writings are based on the year, not on the day.
Fun Facts
James "Whitey" Bulger (Yin Metal 辛) was arrested five years ago this month, ending a 16-year national manhunt. At the age of 82, Bulger was sentenced to two life terms for racketeering, firearm possessions, and murder. Actor Johnny Depp portrayed Bulger in the 2015 biopic, Black Mass. Wonder if we will capture any infamous criminal on the run this month… we'll have to see!
Upcoming Events
Jun. 4-8, 2016 = 5-Day Feng Shui Training in New York, NY
Aug. 5-9, 2016 = 5-Day Feng Shui Training in San Francisco, CA
www.FengShuibyJen.com | [email protected]
Copyrighted © 2016 | Feng Shui by Jen™ | All Rights Reserved | Materials may not be copied, translated, or distributed without prior written consent.