Advance Class Information:
For the first time in the school's history, we will be offering the Advance Class in Hong Kong!
Over the years, many students from the Raymond Lo School of Feng Shui & Destiny have come to learn that Hong Kong is a very special place not only because it has been dubbed the "kaleidoscope of life." Indeed, Hong Kong is one of the most energetic, prosperous, and bustling cities in the world. Above the rest, however, Hong Kong is considered to have the world's BEST Feng Shui landscape configuration. And it makes for a really great place to study Feng Shui and see this beautiful city firsthand.
While some folks may often associate Feng Shui with homes and offices, Classical Feng Shui extends as a macro practice that first examines the shape, curvature, structure, position, and coloration of the land that Mother Nature has organically created. These important factors have a significant effect on the Feng Shui fortune of a piece of land, long before you build a house or design the interior aspects of the space, but has a subsequent influence on every property built upon it.
Similar to the real estate mentality: Location is everything!
And so, this 2017 Rooster Year, we are very excited to offer the Advance Class in Hong Kong for the very first time in the school's 20-year existence. This is a once-in-a-lifetime opportunity for students to mingle with students from other countries, take their studies to the next level, and to get the hands-on experience they need to feel more confidence in consulting with clients. Don't delay and join us now! Seats are very limited.
When: Sept. 20-23, 2017 (all day class)
Venue: Cliftons Hong Kong
Rooms 508-520, Hutchison House, 10 Harcourt Rd, Central, Hong Kong
Tuition: $1,900 USD ($1,600 with early bird registration by June 30, 2017)
Class Format:
The 4-day Advance Class includes 3 days in-class and 1 day in the field, and is designed to train and expose students to use what they have learned in Classical Feng Shui, Four Pillars of Destiny, and I Ching Divination to solve case studies. Students will be divided in teams and will be expected to verbalize their conclusions and recommendations in a presentation format in front of the class.
While there will be revisions on certain topics such as Water Formulas, the class will have very minimal lecture. The intention of the course is to create more opportunities to perform exercises, expose students to unique cases, and help students build their confidence in piecing all the components together while applying the fundamental principles and techniques from all three subjects, and also developing stronger and better communication and presentation skills.
After successfully completing the 4-day event, students will receive an Advance Class certificate signed by Grand Master Raymond Lo.
Pre-requisites: 
The course is available only to eligible students who have fulfilled the required pre-requisites. No exceptions granted.
Students must have completed the following 3 courses with the Raymond Lo School of Feng Shui & Destiny (proof of attendance may be requested):
Feng Shui
Four Pillars of Destiny
I Ching Divination
If you have not satisfied the pre-requisites, you have plenty of opportunities to complete the training course(s) in the U.S. and in other cities where Grand Master Raymond Lo teaches. The U.S. dates are available in the flyer below or click HERE to inquire.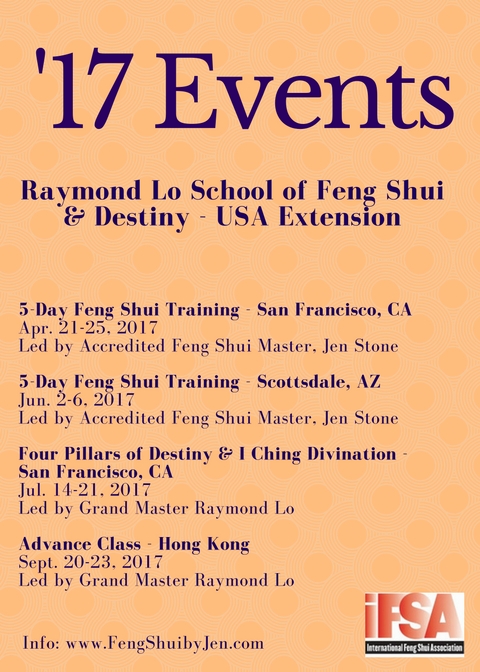 Payments (all in USD):
Personal or business checks. No additional fees.
Paypal, certain fees may apply.
All major credit cards including American Express, MasterCard, Visa, and Discovery + 3% credit card fee.
Tuition must be paid in full prior to the start of the event, unless previously arranged with Jen. Payment installment plans are available on a case-by-case basis and subject to additional fees. Please inquire to [email protected].
Cancellation Policy:
Due to the extensive pre-planning and efforts required to organize this event, Feng Shui by Jen™ reserves the right to retain certain administration fees if students decide to cancel. Paid tuition cannot be rolled over or applied to another class offered at the Raymond Lo School of Feng Shui & Destiny.
100% refund if cancelled

30 or more days

prior to the start of the event, less $100 processing fee.
90% refund if cancelled

less than 20 days

prior to the start of the event.
75% refund if cancelled

less than 10 days

prior to the start of the event.
Registration Form:
Student Registration: Advance Class HK 2017
Please fill out the form to complete your registration to attend the RAYMOND LO SCHOOL OF FENG SHUI & DESTINY ADVANCE CLASS in Hong Kong, Sept. 20-23, 2017. One registration form per student only. The course will be led and instructed by GRAND MASTER RAYMOND LO, and organized by ACCREDITED MASTER JEN STONE for the Raymond Lo School of Feng Shui & Destiny. Please forward all inquiries to: [email protected].
Copyrighted © 2016-2017 | Feng Shui by Jen LLC | All Rights Reserved | Materials may not be copied, translated, or distributed without prior written consent.