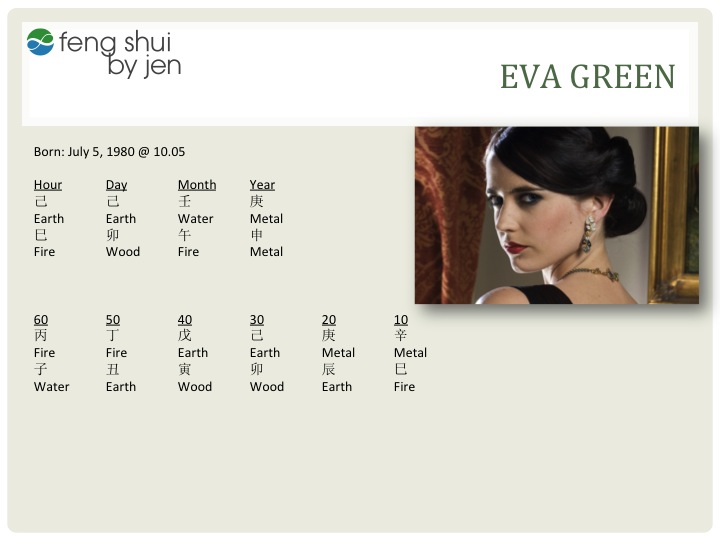 I am a big fan of Eva Green, especially the show Penny Dreadful on HBO. Ms. Green rose to fame in Hollywood after playing Vesper in the 2006 movie "Casino Royale" where she played James Bond's first and only true love.
Ms. Green is strong Yin Earth born in summer with a lot of Aggressive Intelligence. Yin Earth ladies are quite feminine, sophisticated, charming, and slender. Other famous Yin Earth ladies include Audrey Hepburn, Anne Hathaway, Eva Peron, and Judy Garland, to name a few.
Looks like Ms. Green's current luck is a duplicate to her Day Master, seems okay for her professional career but not so lucky in love — too many competitors.
She has publicly remarked that since doing the show Penny Dreadful (she plays a clairvoyant woman who can channel other worlds and is haunted by evil spirits), she has personally become more spiritual herself. That is an interesting statement since the Fire years bring her the Resources Element, which we generally can equate that to knowledge, spiritual and religious transformation, and self discoveries (similar to John Travolta when he became more involved with Scientology).
She claims to also be more of a recluse, which we often find when someone is under the influence of the Resources Element where the energy tends to be a more quiet, reclusive, and meditative time. That's why if Resources is your unfavorable Element, it's good to use this time to invest in knowledge.