September 2021 Yin Fire Rooster Feng Shui & BaZi Update
"I do believe in an everyday sort of magic — the inexplicable connectedness we sometimes experience with places, people, works of art and the like; the eerie appropriateness of moments of synchronicity; the whispered voice, the hidden presence, when we think we're alone." — Charles de Lint
Wow! August was quite the month, wasn't it? The barrage of active and high-strung energy from the political front, weather, and everyday anxiety did not sweep us gently into the night, especially after July's penalty month! Seriously, if letting go was the theme of August, we certainly have a lot of that coming in September!
September, the month of the Rooster, is the peak of the autumn season. Whatever leftover Fire energy we had from the first half of the year is vanishing with each passing day. It's starting to feel a little bleak and feelings of uncertainties are beginning to mound again.
The fall is the Metal Element season, and this Rooster is the pinnacle for the theme of letting go. Last month, I mentioned August is the yellowing of the leaves. Now, September, is when the leaves actually begin to detach themselves from the trees—and fall.
Therefore, it's time to transform our perfectionism to appreciation; regret to inspiration; and loss to acceptance. It's the point of no return. Procrastination will only get you in trouble, sick, and stuck.
LET. IT. GO.

Approaching this month, I've done what I've preached and made some hard and clear decisions on a few things that required my letting go as well. They're not always easy or convenient, but I am reassured because I know that the season is supportive for such a task.
Are you paying attention? Are you doing the work?
September is the most critical month as we prepare for October – the Earth Penalty month. We have to take full advantage of this time to prepare our hearts, minds, bodies, finances, relationships, and work so we are setting ourselves up for success. We cannot take things for granted or ignore issues that demand our attention because it's unpleasant or difficult.
Our country is facing the same dilemma. If America was a person, she certainly isn't doing herself a favor. She's likened to an unhealthy person who continues to feed on negative and destructive behaviors and then expects things to have a different outcome!
If 2020, the year of the big awakening, did not teach you anything, it's to show you that those who are grounded, have a strong spiritual practice, have their finances and relationships in order, and are generally in a healthier state of mind, will overcome the shock waves no matter how huge the impact. The second half of this year is no different. As such, I hope I've made my message clear: do the work and get to it!
BaZi
September is your Nobleman if:
The Heavenly Stem of your Day or Year Pillar is Yang Fire 丙, Yin Fire 丁; or
You were born in years ending 6 or 7 (1966, 1977, 1986, 2007, etc.)
September is your Clash if:
You have a Rabbit卯 animal sign anywhere in your Four Pillars such as:
Born in the Year of the Rabbit (1939, 1951, 1963, 1975, 1987, 1999, etc.);
Born in the Month of the March (Mar. 5/6 – Apr. 6/7);
Born in the Day of the Rabbit (need the Hsia calendar to compute this); or
Born in the Hour of the Rabbit (0500-0700 local time)
September is your Self Penalty if:
You were born in the Year of the Rooster (1945, 1957, 1969, 1981, 1993, etc.); or
You were born in the Day of the Rooster (need the Hsia calendar to compute this)
Feng Shui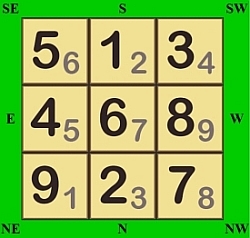 Month Star 7 takes the Center palace, and we have some problematic areas to address. Therefore, take care of the Feng Shui of your home as follows:
North Sector (2,3) – Need a Fire Element Cure: red envelope
Southwest Sector (3,4) – Need a Fire Element Cure: red envelope
East (4,5) – Need a Metal Element Cure: 6 metal coins or 6 metal rod wind chime.
South Sector (1,2) – Need a Metal Element Cure: 6 metal coins or salt cure.
Southeast Sector (5,6) – Need a Yin Water/Wood Element Cure: 3 bamboo stalks in a clear glass vase (no rocks or soil).
Center Sector (6,7) – Need a Yin Water/Wood Element Cure: 3 bamboo stalks in a clear glass vase (no rocks or soil).
Northwest Sector (7,8) – Do not activate Star 8 this month.
Potential prosperous areas:
Northeast Sector (9,1) and West Sector (8,9) – These are very powerful areas this month, only if the base chart Feng Shui of your home already has good stars. Otherwise, do not activate unless you know this for sure.

If you know your chart, activate with water features such as a small water fountain.
If you do not know your chart, engage a Feng Shui consultation to see if you can get the analysis done. This way, you could potentially reap the benefits and windfall of the good stars this month. Otherwise, leave as-is.
Upcoming Events:
Last chance to join the 5-Day Feng Shui Training course in Scottsdale, AZ. This will be held on Oct. 12-16, 2021.

Copyrighted © 2021 | Feng Shui by Jen LLC | All Rights Reserved | Materials may not be copied, translated, or distributed without prior written consent.