"One of the most courageous decisions you'll ever make is to finally let go of what is hurting your heart and soul."
– Brigitte Nicole
Am I the only one smiling that we are finally out of the Goat month? Wowie! I received so many messages from all of you commenting on the energy of July. Yes, the clash-penalty month was certainly bonkers but I hope you turned out just fine! Congrats, we all made it out.
As I have mentioned last month, July came through as expected – bringing news that
With that said, I'm so excited to welcome a new month, a new cycle, and a new season! It's all new, so what can be so bad about that? 🙂
Aug. 7 brings us the Monkey month and this is the start of the autumn season – Metal. Despite the obvious weather in our physical world, the Chinese Hsia calendar indicates that the first day of Fall signals the shift from the Yang to the Yin season. Moreover, we are officially halfway through the Ox year! Does that make you excited or a little freaked out?
BaZi
This is the season of letting go.
The challenges of letting go (like a tree and its falling leaves) and finding value (the trace elements in the soil from the decay of plant material) are core issues for the Metal season (August through October).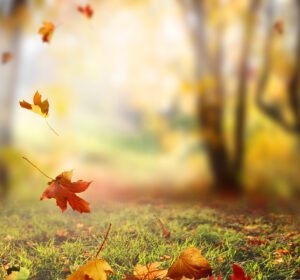 The Monkey celestial sign is a Yang Metal Element.
The Metal 金 Element is a difficult one to grasp in nature at first. But you can look at it as the connector of all things. Without it, the "nuts and bolts" of all things would come unhinged. Rather than a world of creation, Metal is the SPIRIT underlying the creation of the world. Also, if Earth is the Great Mother, then Metal is the archetype of the Father, the heavenly energy that, when planted within, initiates life. That's why this Element holds the "transcendent function," conveying a sense of reverence as you stand in awe before the wonder of creation.
As there has been so much emphasis on the feminine energy of late, Metal is a reminder to honor the father, too. In Chinese Medicine, a father's positive influence helps instill a child's development or moral authority, principles, and discipline, all of which foster self-reliance and self-worth. So, let's bridge the yin and the yang!
Here's a beautiful poem by Nelson Mandela to entice and inspire you this new season:
To let go doesn't mean to stop caring: it means I can't do it for someone else.
To let go is not to cut myself off; it is the realization that I can't control another.
To let go is not to enable, but to allow learning from natural consequences.
To let go is to admit powerlessness, which means the outcome is not in my hands.
To let go is not to try to change or blame another;
I can only change myself.
To let go is not to care for, but to care about. To let go is not to fix, but to be supportive.
To let go is not to judge, but to allow another to be a human being.
To let go is not to be in the middle arranging outcomes, but to allow others to effect their own outcomes. To let go is not to be protective; it is to permit another to face reality.
To let go is not to deny, but to accept.
To let go is not to nag, scold, or argue, but to search out my own shortcomings and to correct them
To let go is not to adjust everything to my desires, but to take each day as it comes and to cherish the moment.
To let go is not to criticize and regulate anyone, but to try to become what I dream I can be. To let go is not to regret the past, but to grow and live for the future.
To let go is to fear less and love more.
August is your Nobleman if:
The Heavenly Stem of your Day or Year Pillar is Yin Wood 乙, Yin Earth 己; or
You were born in years ending 5 or 9 (1975, 1989, 1995, 2009, etc.)
August is your Clash if:
You have a Tiger寅 animal sign anywhere in your Four Pillars such as:
Born in the Year of the Tiger (1938, 1950, 1962, 1974, 1986, 1998, etc.);
Born in the Month of the Tiger (Feb. 4 – Mar. 5/6)
Born in the Day of the Tiger (need the Hsia calendar to compute this)
Born in the Hour of the Tiger (0300-0500 local time)
August is your Traveling Star if:
You were born in the Year of the Tiger (1938, 1950, 1962, 1974, 1986, 1998, etc.);
You were born in the Year of the Horse (1942, 1954, 1966, 1978, 1990, etc.);
You were born in the Year of the Dog (1946, 1958, 1970, 1982, 1994, etc.); or
You were born in the Day of the Tiger, Horse, or Dog
Feng Shui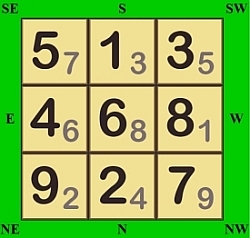 Month Star 8 takes the Center palace, and we have some problematic areas to address. Therefore, take care of the Feng Shui of your home as follows:
North Sector (2,4) – Place a Fire Element (or red item) object.
East (4,6) – Place 3 bamboos in a clear glass vase with water only (no rocks or soil).
South Sector (1,3) – Annual Star 1 will enhance the Month Star so make sure you place a Fire Element (or red item) object similar to the North Sector.
Southeast Sector (5,7) – Annual Star 5 (the evil culprit this year) will enhance Month Star 7 causing concerns with scandal, misunderstandings, and arguments. If this is your office, make sure all legal documents and agreements are properly reviewed and signs; if this is your kitchen, take care of your lungs and skin; if this is your bedroom, understand that sleep may be disturbed. Use 3 bamboos in a clear glass vase to neutralize this energy this month.
Center Sector (6,8) – Don't be fooled by Month Star 8 being a positive influence! Star 8 can stir up legal trouble as it is connected with Annual Star 6. Therefore, do not activate.
Northeast Sector (9,2) – Sickness is strong here this month with the help of Annual Star 9 (Fire) giving more energy to Month Star 2 (Earth). Therefore, use 6 metal coins to minimize its negative impact.
Northwest Sector (7,9) – Similar to the Center palace, don't active Month Star 9 as 7,9 are in a fighting positing, stirring up relationship difficulties at home and at work.
West Sector (8,1) – We have one good sector this month. Yay! Activate Month Star 1 only if the base chart of your house already has good starts to begin with. Otherwise, you could create more harm than good. But if you are lucky enough to have good Stars and Forms, then you can expect a smooth and easy flow of good qi this month with new opportunities, divine connections, and unexpected money!
Need a Feng Shui evaluation? Schedule yours today HERE.
Upcoming Courses
Click on links below for more information.


Copyrighted © 2021 | Feng Shui by Jen LLC | All Rights Reserved | Materials may not be copied, translated, or distributed without prior written consent.