"What I have seen to be good and to be fitting is to eat and drink and find enjoyment in all the toil with which one toils under the sun the few days of his life which God has given him, for this is his lot." – Ecclesiastes 5:18
It's my birthday month! If you know me well at all, then you know I love to celebrate my birth for the entire month of October! That means, you have until Oct. 31 to send me your well wishes and I'll take it!
I gripe and feel sad when people complain about their birthday. Sure, you're another year older and you're probably getting more wrinkles, gray hairs, and starting to lament your youth. Guess what? Everyone else is, too! But every year is a gift to do better, to try again, to dream bigger, and to show up differently. Plus, wisdom is attained from experience and time. We can peak and fall and peak again, but time is what permits us to grow, heal, and to make our paths straight again.
No matter the themes of the year's past, time is something we're all running up against and none of us is guaranteed another day of tomorrow. So, why gripe about it? Let's eat cake!
BaZi
Oh, October! On Oct. 8, you're officially here and it's going to be a wild time. Did you catch my Zoom workshop on closing out 2021? If not, you can purchase the recording so you can prep and manage this incoming cycle with ease and grace. That recording will showcase the intensity of the month a lot more than I can articulate here in writing. So, I highly recommend that you check it out! Plus, I also share certain days to observe and watch out for. Send me an email to order.
The Dog is always the Spirit Element and it can be jarring to those who may not be attuned to some kind of spiritual ritual. Essentially, the Dog is an invitation to shift your attention inward and examine what's stirring in your heart. Are you feeling restless? Agitated? Impatient? How is the mind connecting with the heart? Are you overthinking? Excessively worried? Or are you generally at peace?
Don't push aside or ignore these prompts. October is a recalibration month to get you nicely setup for the remainder of this crazy Ox year. And while I don't want to be the bearer of bad news, October is an Earth Penalty month, so it's critical to get your mind, body, and heart in the best place so any disruption or stirrings-of-the-heart won't set you off on a tangent!
October Nobleman
Sorry, the Dog is NOT a Nobleman to anyone!
October is your Clash if:
You have a Dragon 辰 animal sign anywhere in your Four Pillars such as:
Born in the Year of the Dragon (1940, 1952, 1964, 1976, 1988, 2000, etc.);
Born in the Month of the Dragon (Apr. 6/7 – May 5/6);
Born in the Day of the Dragon (need the Hsia calendar to compute this); or
Born in the Hour of the Dragon (0700-0900 local time)
Carry a jade pendant of the Rabbit.
October is your Earth Penalty if:
You have a Goat sign anywhere in your Four Pillars.

Year of the Goat (1943, 1955, 1967, 1979, 2003)
Month of the Goat (July 7 – Aug. 7/8)
Day of the Goat
Hour of the Goat (1300-1500)

Carry a jade pendant of the Rabbit. But you may need to schedule a session for more specific instructions to protect your BaZi chart. Schedule HERE.
Feng Shui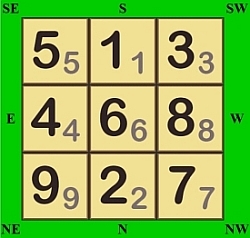 All I have to say about this month is: DOUBLE-DOUBLE! It's either double the luck or double the trouble! The Feng Shui of October is going to duplicate the energy of 2021. So, if you're already familiar with the Annual Stars, then you know it's time to double things up.
The scariest sectors are located in the Southeast (5,5) and North (2,2). The potential areas for prosperity and good luck are in the West (8,8) and Northeast (9,9) but you'll have to double check the base chart Feng Shui of your house/office before activating.
Copyrighted © 2021 | Feng Shui by Jen LLC | All Rights Reserved | Materials may not be copied, translated, or distributed without prior written consent.