October 2020 Yang Fire Dog Feng Shui & BaZi Update
"When you are caught up in a destructive emotion, you have lost one of your greatest assets: your independence." – Dalai Lama 

So far, we've made a lot of references to the Water Element as it relates to the emotions of fear and anxiety. Well, I think it's important now that we take a good look at another emotion—anger.
On October 8, we transition to the end of the Autumn season. The Dog month fittingly symbolizes the final pivot in preparation for the winter months of hibernation, protection, and preservation. If you've been following BaZi now for some time, you may recall that the Dog month is also called the "grave of Fire." This is when the Fire Element goes to die. Fire, the essential energy responsible for joy, optimism, hope, and celebration, will now officially enter the grave to complete its life cycle. Yes, every life and animate being, even the Elements, has a life cycle.
So, as we move into this new space, let's drop in and check in on our anger. Are you angry? Do you have some pent up, frustrated feelings? Are you sick and tired of feeling scared, worried, insecure, bullied, shocked? Anger comes from a deep place that demands acknowledgment and expression. At these times, it is important that we find healthy ways to honor our anger and remember how dangerous it is to repress it. Anger, like grief, is like a dance. We weave in and out of these emotional spaces: careful not to ignore and dismiss, but also careful not to create a habit of making these our go-to emotions whenever things go wrong.
Build some awareness around this to recognize the origin of your anger. Anger can be a powerful ally because it can be formidable agent of transformation. It is one of the most cathartic emotions. However, without healthy habits of reflecting, processing, and expressing, it can destroy our system and poison our heart.
Meaning of the Elements
~ The Elements this month is Yang Fire Dog ~
The Earthly Branch is the Dog (Oct. 8 – Nov. 7). The Dog sign is an Earth Element that belongs to the Metal season. The Dog is also devoid of all the positive symbolic stars. It is empty, mysterious, mystical, and spiritual. Hence, this Dog month will force us to slow down and pause. Think of this as both a preparation and reset month before heading into battle (when we officially transition into the Water season).
What do you need in order to succeed? What tools and weapons are you going to equip yourself with? How are you going to mentally and emotionally prepare yourself? If you don't have the answer for this, then it's time to quickly devote some time now to explore these questions.
BaZi 八字
Yang Fire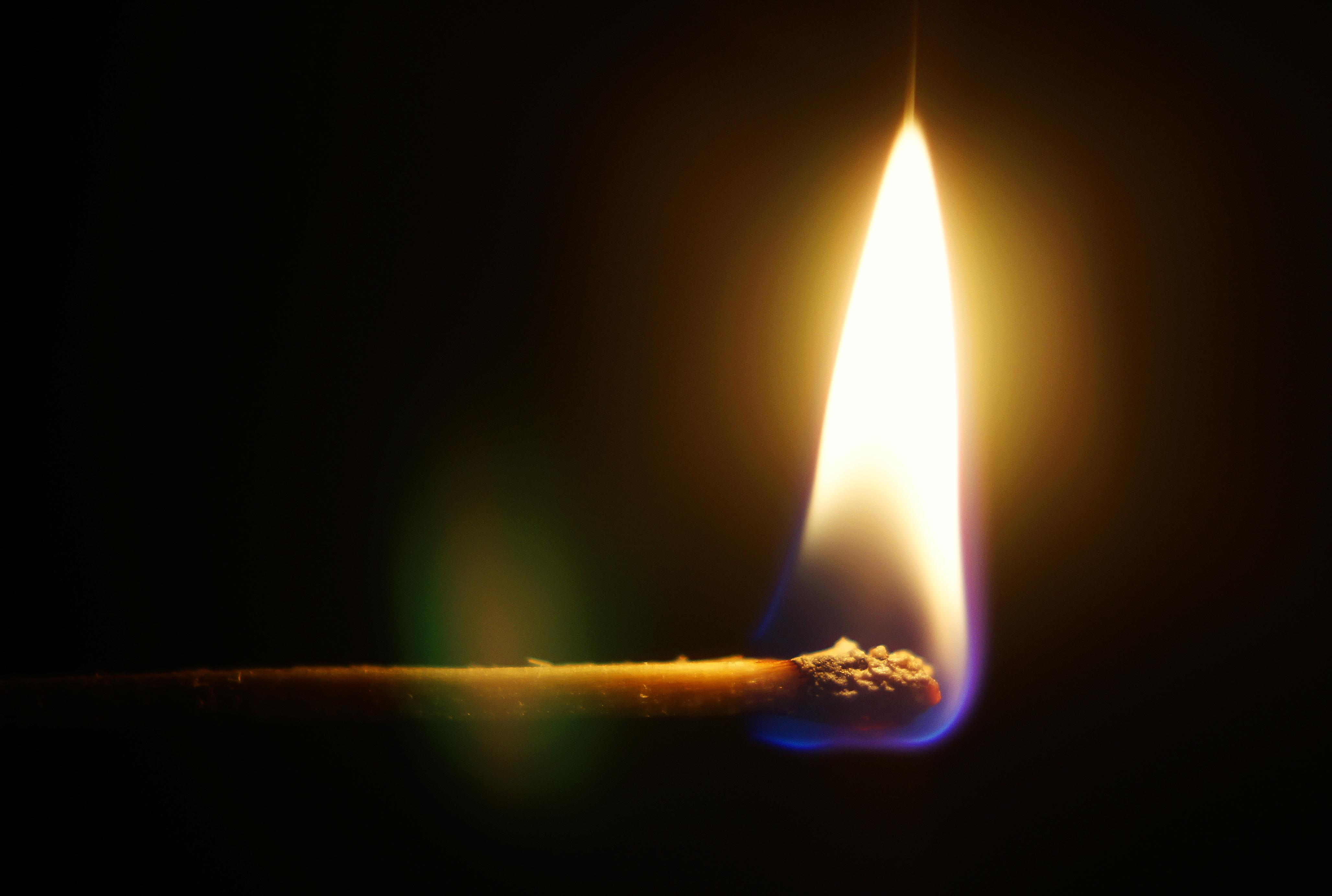 The Heavenly Stem is Yang Fire, like the sun or sunlight. Yang Fire people are energetic with a generally positive disposition. They are visionaries and dreamers, but require a healthy dose of discipline and focus. They embody the hub of creativity and are the source of new, revolutionary ideas. On the other hand, this can also make them seem unreal, look as if they live in illusion, or have no sense of reality. They serve others but often lack the self-control to create boundaries. Overall, Yang Fire people are quite joyful with a very optimistic view of the world.
Yang Fire ladies: Sandra Bullock, Jessica Alba, Jennifer Connelly, Mariah Carey, Amber Heard, Sharon Stone, Melania Trump, Lucy Liu, Misty Copeland, Kate Hudson, Michelle Pfeiffer, Katie Pavlich, Rachel Weisz, Dinah Shore, Toni Collette, Veronica Lake.
Yang Fire gents: Albert Einstein, Russell Crowe, Vladimir Putin, Mahatma Ghandi, Pope John Paul II, Joey McIntyre, Shia Labeouf, Milo Ventimiglia, Robin Thicke.
Dog
The Dog is an Earth Element that belongs to the string of the Metal season. This is always the period when the Fire energy goes to die. The Heavenly Stem, Yang Fire, on top, is not so reliable because it is weakened by the Dog sign. In other words, the idea of hope and sense of confidence are greatly challenged this month. When you think about it, October is a critical month in the U.S. with the impending election. Emotions will be running at an all-time high. When hope is bleak, anger flares up. Moreover, history shows us that the stock market traditionally goes through bouts of instability (correction or crash) during "Black October" as investors feel the effects of the uncertainties of the season.
Nobleman
Sorry, there is no Nobleman in the Dog month.
Peach Blossom
Sorry, there is no Peach Blossom in the Dog month.
Dog is your Clash month if:
You were born in the Year of the Dragon (1940, 1952, 1962, 1976, 1988, 2000, 2012).
You were born in the Month of the Dragon (Apr. 4 or 5 – May 4 or 5).
You were born on the Day of Dragon. But this one is harder to derive because you need a Chinese calendar. You may email me to get yours if you don't already have one.
You were born in the Hour of the Dragon (0700 – 0900 hours local time).
Click HERE to learn more about Clash.
Flying Star Feng Shui 玄空風水
Month Star 9 takes the Center Palace.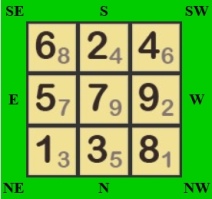 South Sector (2,4): use the Fire Element to minimize relationship disagreements.
Southwest Sector (4,6): use the Yin Water and/or Wood Element to cure legal troubles or money woes.
West Sector (9,2): use the Metal Element to suppress the Star of Sickness.
North Sector (3,5): use the Metal Element to neutralize the Star of Misfortune.
East Sector (5,7): use the Yin Water and/or Wood Element to stabilize the Star of Scandal, which can affect the youngest daughter of the house.
Southeast Sector (6,8): prosperous Star 8 is again not useful because it will enhance the outdated Star 6, which can lead to legal problems. Put everything in writing.
In my "Who Will Win?" workshop, I mentioned the sensitivity in the North sector (facing) of the White House as Misfortune 5 makes a visit at the front façade. Plus, prosperous Star 8 in the Southeast sector (Oval Office) is also not useful since this will only enhance legal trouble. Doesn't this understanding prompt you to suspect what energy and events will come up during the month of October? Since the general election is on Nov. 3, this is still technically in the month of the Dog. Yep, you got it. Lots of conflicts, arguments, and turbulence ahead of us.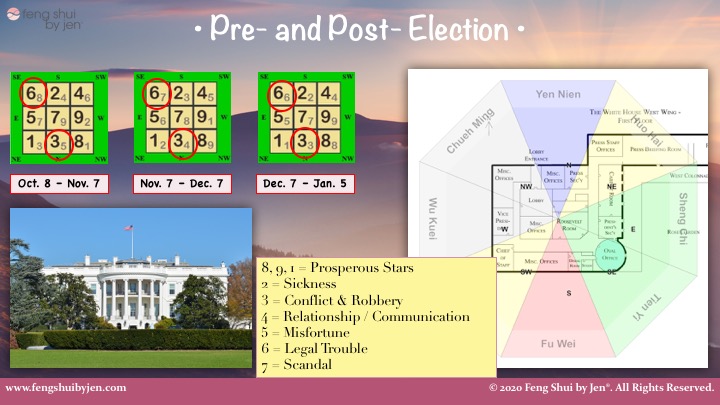 Upcoming Events
Oct. 14-18, 2020
In lieu of teaching in London this year, I will be offering the 5-Day BaZi course via Zoom. Register HERE.
Copyright © | Feng Shui by Jen LLC | All Rights Reserved | Materials may not be copied, translated, or distributed without prior written consent.