September 2020 Yin Wood Rooster Feng Shui & BaZi Update

"The heart surrenders everything to the moment." – Ram Dass
How are you? Tell me, did you fare well last month?
On September 7, the Rooster month will lead us to the peak of the Autumn season. That means, everything will be heightened. This year alone, I have shattered many of my own professional records as I navigate the stream of my work flow. It's elating and exhausting all the same. But I feel tremendously blessed to be in the flow and to be in the grace of productivity and abundance.
You see, I have learned to ride this wave by recognizing periods for surrender. Believe it or not, and despite how much I create and share, I do prioritize rest and recovery and take extended vacations! But all our lives, we are groomed to think that success often means to produce and to perform. But in the Yin/Yang of it all, every effort has its time and its place. Sometimes you push (Yang), other times you pull (Yin). I think most of us prefer to be in the Yang because we live in the age and culture of "showing off."
We advertise, promote, and externally share our accolades, accomplishments, successes, and noisily offer our thoughts and opinions. It's normal. It's what's expected of us anyway. Sometimes when we get too quiet, people reach out thinking there must be something wrong. And so, the idea of contracting, retreating, retracting, going within, slowing down, and the like, have become the unsexy or undesirable territories of emotions.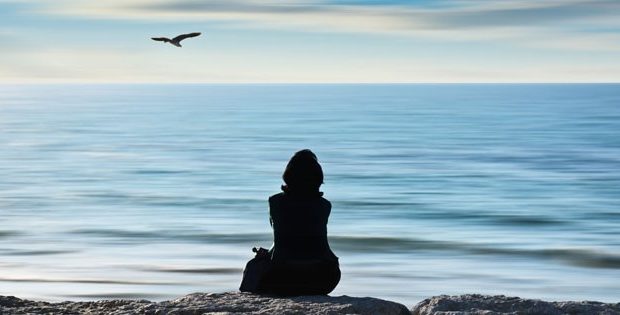 So, we continue to push with whatever we have even when our mind/body/spirit urge us to be still. Ever wonder why is life so hard sometimes? Frankly, because we are stubborn, egotistical creatures, and we resist the cyclical currents of the flow of life. And so, the harder we push (when we are supposed to be retracting), the more we create our own energetic hardships—all of which eventually leads to a slew of imbalances such as self-sabotage, doubt, disappointments, and sickness.
The Rooster, at its peak performance, will mean that all the work you have done (or were supposed to do) back in August and earlier will be in full swing. Ask yourself: What were the specific themes or feelings around August? Was it about letting go? Slowing down? Reprioritizing? Taking better care of yourself? Setting tougher boundaries? Being more self-aware? Grounding in a spiritual practice?
September is the outer world, the big guy; it's no longer the practice run or playground for which you dabble and doodle in trial and error. No, sirree! This is the real deal. You will now put forth all that work you've done into a real space. It's do or die or time to fly. Did you know autumn equinox is on September 22? This is also known as the holiday of Mabon in the Pagan calendar, the spiritual celebration that honors the change of seasons, which used to pose a massive challenge to the survival as humans. Think about that.
So, as we near the start of a new month, do you have everything you need to navigate the second half of this year? If not, I'd love to work with you.
Meaning of the Elements 
~ The Elements this month is Yin Wood Rooster ~
The Earthly Branch is the Rooster (Sept. 7 – Oct. 8). The Rooster is a Yin Metal Element. While the Monkey month signals the beginning of the autumn season, the Rooster is the climax. If you read last month's update, we compared the energy of August to the yellowing of a leaf, barely clinging on to the branch. This month, the leaf has separated from its home, fallen to a pool of dead leaves, and preparing for its return to the soil.
Can you apply that imagery to the areas in your life that you have been working on?
BaZi 八字
Yin Wood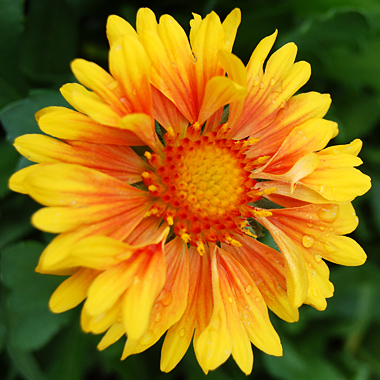 The Heavenly Stem is Yin Wood, like a flower. They are beautiful, creative, flexible, and easy going. In my professional experience, Yin Wood people are the "too nice" people. It's not uncommon for Yin Wood people to compromise their independence and boundaries, which eventually sabotages the power of their voice. Too many Yin Wood women have fallen trapped to this behavior, especially in relationships. But alas! When they rediscover themselves, they emerge like a flower in bloom—full of beauty, wonder, and strength.
Yin Wood ladies: Princess Diana, Madonna, Nicole Kidman, Coco Chanel, Emma Stone, Julia Roberts, Malala, Christina Aguilera, Jessica Biel, Vanessa Lachey, Julianne Moore, Brooke Shields.
Yin Wood gents: Hugh Jackman, Prince William, John Lennon, Mick Jagger, Brad Pitt, John Travolta, Jerry Seinfeld, River Phoenix, Jack Black, John Ritter, John Wayne, Prince.
The Rooster
The Rooster
As we move deeper into the second half of this year, the Water Element from the year will strengthen and intensify. Because the Rooster is the strongest Metal Element, this connection will definitely do just that. As such, you need to be familiar with your personal BaZi chart to see whether the Water Element is favorable to you. Here is a general and super blanket statement, so unless you've had your BaZi chart read before, it's best to get a professional reading done so you know for sure.
The Water Element is favorable to the following Self-Elements:
Strong Metal
Weak Water
Weak Wood
Strong Earth
Strong Fire if there are no Wood Elements present
The Water Element is unfavorable to the following Self-Elements:
Strong Wood
Strong Water
Weak Fire unless there are Wood Elements present
Weak Earth
Weak Metal unless the chart is extremely weak
Rooster is your Nobleman month if:
You were born in years ending 6 or 7 (i.e., 1976, 1987, 2006, 2017, etc.).
You were born in a Yang Fire 丙 or Yin Fire 丁
Your BaZi Day Master is Yang Fire丙 (the sun) or Yin Fire丁 (a candle).
Rooster is your Clash month if:
You were born in the Year of the Rabbit (1939, 1951, 1961, 1975, 1987, 1999, 2011).
You were born in the Month of the Rabbit (Mar. 5 or 6 – Apr. 4 or 5).
You were born on the Day of Rabbit 卯. But this one is harder to derive because you need a Chinese calendar. You may email me to get yours if you don't already have one.
You were born in the Hour of the Rabbit (0500-0700 hours local time).
For the clash this month, follow the guidelines below:
Carry a jade pendant of the Dragon during the month for additional protection;
Take care of the Feng Shui of your house (see section below);
Be self-aware that this month is a sensitive and tempestuous one. As such, take great care of your mental health by holding yourself accountable to a healthy routine.
Rooster is your Peach Blossom month if:
You were born in the Year of the Monkey 申, Rat 子, or Dragon 辰.
You were born on the Day of Monkey 申, Rat 子, or Dragon 辰.
Rooster is your Self Penalty Month if:
In your Four Pillars, you already have a Rooster sign anywhere in your Year, Month, Day, or Hour Pillar. Be careful with your emotions this month. Don't try to take things too personal and be gentler with yourself. Self-Penalty conjures up self-harming behaviors such as procrastination, addiction, OCD, negative self-talk, etc. There are no magic potions to dissolve this energy other than awareness and self-care. Be kind to yourself and adjust your expectations so you can be more at ease with your current state and feel more optimistic about what's ahead.
Flying Star Feng Shui 玄空風水
From Sept. 7 to Oct. 8, the month star affliction will position 1 in the Center. Remove last month's cures and cleanse them before reusing them again this month. You can cleanse them by laying out the objects to soak under the sun for a day.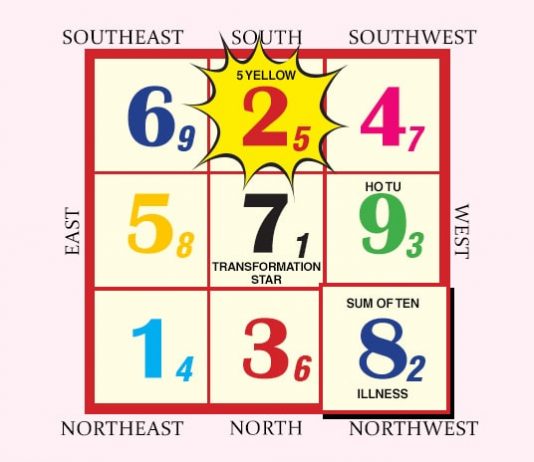 South Sector (2,5): Use the Metal Element to suppress this combination. In Flying Star Feng Shui, 2,5 is always responsible for mishaps, accidents, and hardships. If you have a south-facing house, make sure to place separate cures both outside and inside the home (i.e., one cure at the front door and another one in the foyer).

Southwest Sector (4,7): Use the Wood and Yin Water Elements to curtail relationship conflicts, especially between women (e.g., mom and daughter).

Northwest Sector (8,2): Use the Metal Element to lessen the effects of sickness in the stomach (digestion, blood sugar, worries).

North Sector (3,6): Use the Yin Water and Wood Elements to control conflicts between the eldest son and the father or someone born in the Year of the Dragon or the Horse.

East Sector (5,8): Prosperous Star 8 is unhelpful because it will pair up with Star 5. Use the Metal Element instead and do not activate Star 8.

Southeast Sector (6,9): Prosperous Star 9 is also not useful because it will fight with Star 6. This can cause issues related to the lungs and blood. The 6,9 combination is traditionally called the "rebellious son." Therefore, this energy can also instigate issues with the eldest son in the house.
Upcoming Events
Sept. 12, 2020
Who will win? This 90-minute presentation will revisit the shifts in the White House (Feng Shui), the candidates (BaZi), and the projected outcome of the US election (I Ching). Register HERE.
Oct. 14-18, 2020
In lieu of teaching in London this year, I will be offering the 5-Day BaZi course via Zoom. Register HERE.
Copyright © | Feng Shui by Jen LLC | All Rights Reserved | Materials may not be copied, translated, or distributed without prior written consent.