"Perseverance, secret of all triumphs." – Victor Hugo
Welcome to the month of the Ox (Jan. 6 – Feb. 3)! The Ox represents the final month of the Rat year. You got that right. We are not quite out of the Rat's energy yet, but we are definitely inching closer and closer. As a bonus, the Ox month is essentially the preview to what the new year—Yin Metal Ox—will bring. Therefore, it's important to pay extra attention to how you are feeling this month, including observing the events, conversations, and connections that may unfold for you and those around you.
While the rest of the world may be in a hurry to move on from 2020 and quick to outline the next 12 months by defining goals, resolutions, or intentions, give yourself permission to do the opposite: decompress and release the energy of 2020 and enjoy easing into the new cycle. Haste is not required!
Trivia: Did you know, every year in Japan, the general public chooses a Chinese character that defines the last 12 months? And as you would have it, the kanji character密 (mitsu), meaning close, has been chosen as the character best representing the sentiment and events of 2020. The character was used in the government's recommended anti-coronavirus measures of avoiding the "3 Cs" – closed spaces, crowded spaces, and close-contact settings.
Seihan Mori, the head priest at the world-famous Kiyomizu Buddhist temple in Kyoto, drew the character with a large calligraphy brush on a huge piece of washi (Japanese paper). Last year, the character令, meaning beautiful or graceful, was chosen. In 2018,  災was chosen meaning disaster.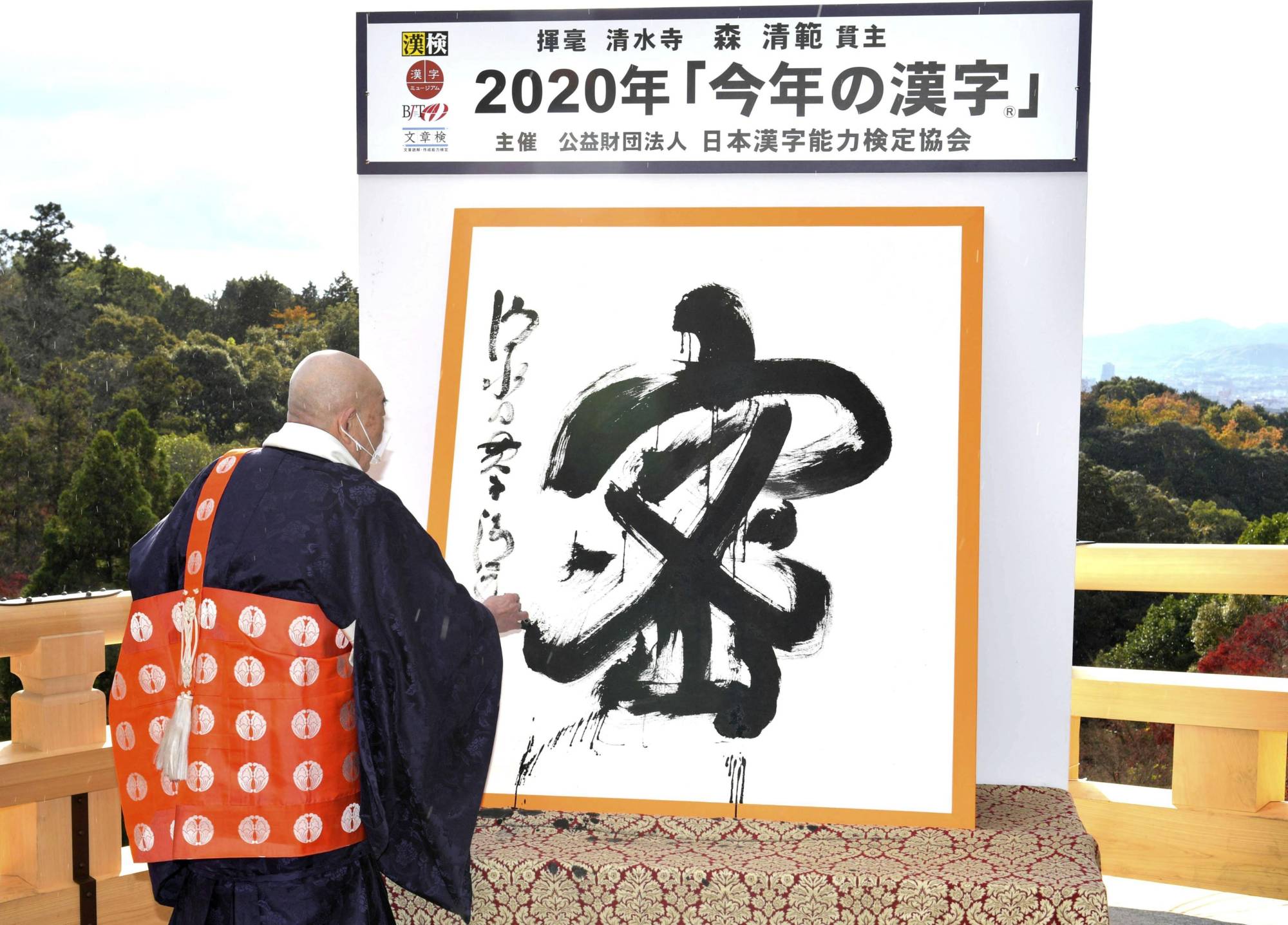 Meaning of the Elements
~ The Elements this month is Yin Earth Ox 己丑 ~
The Ox 丑 begins on Jan. 6 ("Slight Cold" 小寒) and ends when the new Solar calendar starts on Feb. 4 ("Arrival of Spring" 立春). January is the final month of the Winter season and hibernation is in its final stage, which is why the Ox is often referred to as "Winter Earth."
Important dates in the US this month:
Jan. 5 Yin Water Ox 癸丑 – Georgia senate runoffs
Jan. 6 Yang Wood Tiger 甲寅 – Presidential election final steps (strong day for Biden)
Jan. 20 Yang Earth Dragon 戊辰 – Inauguration day (absence of Nobleman / inauspicious)
BaZi 八字
Nobleman
Good news! If the Ox month is your Nobleman, then that means you have 13 months of Nobleman protection starting on Jan. 6, 2021 – Feb. 4, 2022! Yep. You don't have to wait until 2021 officially begins. Check it out:
You were born in the Year of Yang Earth 戊, Yang Wood 甲, and Yang Metal 庚.
You were born in the Day of Yang Earth 戊, Yang Wood 甲, and Yang Metal 庚.
You were born in years ending 0, 4, or 8 (1960, 1974, 1988, etc.)
Clash
That means, you also have 13 months of Clash if:
You were born in the Year of the Goat (1943, 1955, 1967, 1979, 1991, 2003, 2015).
You were born in the Month of the Goat (July 7 or 8 to Aug. 8).
You were born on the Day of Goat. But this one is harder to derive because you need a Chinese calendar. You may email me to get yours if you don't already have one.
You were born in the Hour of the Goat (1300-1500 hours local time).
Penalty
And… 13 months of Earth Penalty if your BaZi chart has both the Dog and Goat signs.
Were you born in the year, month, day, or hour of the Dog?
Were you born in the year, month, day, or hour of the Goat?
Are you currently in the 10-year luck cycle of the Dog or Goat?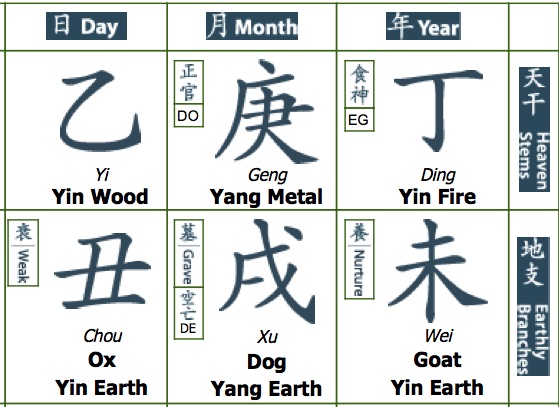 Penalty stirs up unpopular emotions, which often introduces worries, upsets, and sickness in the body. Because the Ox is part of the Earth Penalty string, in health, severe imbalance of the Earth Element can wreak havoc in the stomach (digestion, pancreas, colon, spleen), the muscles (aches, joints, inflammation), immune system (autoimmune flare-ups, cells, food sensitivities), and emotional wellbeing (lack of motivation or fluidity, feeling lost or ungrounded, difficulty trusting in others or in oneself). Therefore, caring for your physical and emotional wellbeing will be of utmost important. Do not take a single thing about your health for granted!
If this applies to you:
Shed the extra weight if you've got the extras.
Eliminate allergens from the body, such as soda, alcohol, processed and inflammatory foods, and sugar.
Strengthen your self-care routing including regularly meditating, praying, or taking time to care for the mind and body.
Move the body! Get the Fire (cardiovascular, blood circulation, heart qi) fired up so not only it releases toxins (through perspiration), but also helps to keep the heart space in fluid motion (raising vibration to feel optimistic, hopeful, joyful, and to keep things in perspective).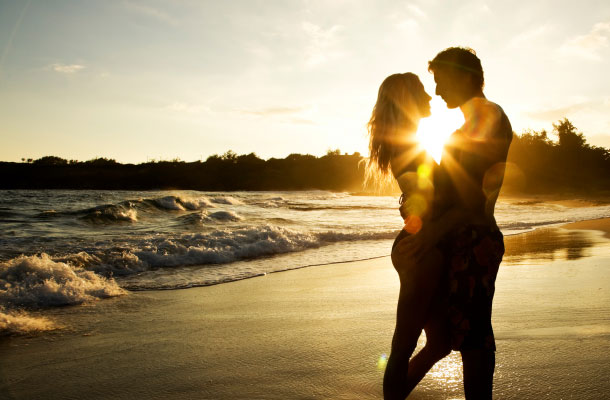 Even if you don't have the Earth Penalty in your BaZi chart, bear in mind that this penalty may show up in your spouse's or your children's. Energy has a funny way of spreading, so it's important to be mindful of how it can seep into your life even when it doesn't impact you directly.
Difficult conversations will be broached and new revelations will be revealed this month. Therefore, focus on sharing your thoughts and feelings honestly but kindly, give up the need to always be right, develop self-soothing techniques and healthy coping mechanisms, and set a timeline to come up with working solutions and action plans to move forward mindfully and productively. To guide you, here are a few sample questions to ask yourself:
On relationships:
What do you truly want in relationships?
Are your relationships honest? Loving? Compassionate? Supportive?
Do your relationships allow for you to show up authentically (and not walk on eggshells)?
How does your partner make you feel? Do you feel lonely? Invisible? Exhausted?
Are your needs being met?
Do you feel whole?
On health:
Are you feeling healthy, strong, and energetic?
Regardless of age or physical abilities, do you exude vibrancy and youthfulness?
Is it easy for you to rise out of bed?
What are you fueling your mind, body, soul? Does it need work?
Do you make time for self-care and play?
Are you easy to laughter or are you incessantly worrying and over-analyzing?
Do people describe you as long-faced, pensive, or stern person?
On work:
Do you feel excited about what you do?
Are you in a slump? If so, what do you need to get you over the slump?
Are you surrounded by people who inspire and motivate you?
At the end of the work day, do you feel fulfilled or deflated?
Do you complain a lot?
If the clash or penalty applies to you, consider the following remedies:
Carry a jade pendant of Rat in your keychain or inside your purse.
Get comfortable with change. Adjusting your attitude to the prospect of change will instill a sense of control, perspective, and appreciation. Remember, change is what creates events in our lives. Therefore, you can proactively identify what areas in your life need adjustments. This is important.
Take care of the Feng Shui of your home, particularly where you sleep. If the month star has an adverse effect in your bedroom, this could provoke restless sleep, sickness and ailments, relationship misunderstandings and conflict, etc. See the Feng Shui write-up below. Click HERE to inquire about getting a Feng Shui consultation.
Know that plans do and will change, so don't get bogged down if the outcome is not what you expected.
Get out of the house more often because the stars are not aligned for hibernating. Busy is the theme of the month.
Break up or change up your routine, especially if the routine feels stagnant and boring.
Be more mindful of your driving behaviors as you could be more susceptible to accidents and mishaps.
Take better care of your health and well-being so your mind and body are in excellent shape to handle whatever stress and discomfort that may arise.
If the clash is in your Day Pillar and you are in a relationship, be more patient and forgiving, and more gentle and clear in your communication and delivery. Creating healthy spaces or boundaries between you two is also ideal, so as not to exaggerate small quarrels into larger arguments.
Flying Star Feng Shui 玄空風水
On Jan. 6, Month Star 6 will take the Center palace. Place your temporary remedies in the following areas:
Center (7,6) = Yin Water and Wood Elements such as 3 bamboo stems in a clear glass vase.
North (3,2) = Metal and Yin Water Elements such as 6 metal coins, salt cure, or a metal wu luo.
East (5,4) = Fire and Earth Elements such as a red envelope or 5 stones.
Southeast (6,5) = Metal and Yin Water Elements such as 6 metal rod wind chime, salt cure, or a black beta fish in a glass bowl.
South (2,1) = do not activate Month Star 1.
Southwest (4,3) = Fire and Earth Elements such as a red envelope or 5 stones.
Northwest (8,7) = Yin Water and Wood Elements such as 3 bamboo stems in a clear glass vase.
The West Sector (9,8) looks fairly strong and prosperous IF the base chart of your home or office already have good stars. If so, then it is safe to activate Month Star 8 to pair up with Annual Star 9. Otherwise, if you are not sure, it's best to get professional guidance or you could inadvertently activate or stimulate something and cause more harm than good. But in case you are able to, then the West sector is pretty auspicious this month!
*Note: The month stars for January is also a preview of the Feng Shui of 2021! The Oval Office of the White House is in the Southeast (Misfortune 5) and the White House's facing façade is North (Sickness 2). Yikes!
Upcoming Events
Jan. 30 | 8th Annual Chinese New Year Talk = The Year of the Metal Ox | 11am MST (live stream via Zoom)
Feb. 6 | Introduction to BaZi | 11am MST (live stream via Zoom)
Feb. 27 | Introduction to Feng Shui | 11am MST (live stream via Zoom)
Mar. 23-27 | 5-Day Feng Shui Training | Scottsdale, AZ (conducted in person only)
June 15-19 | 5-Day BaZi Training | Chicago, IL (conducted in person only)
Copyright 2021 © | Feng Shui by Jen LLC | All Rights Reserved | Materials may not be copied, translated, or distributed without prior written consent.