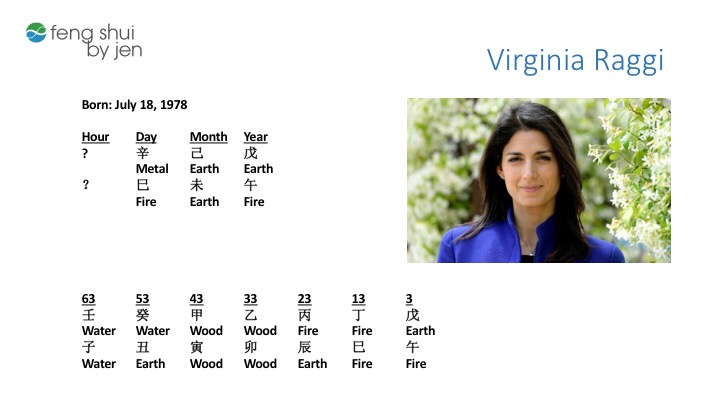 I was intrigued when I heard that Rome has elected its first female mayor this year. Curiosity always gets the best out of me!
The Eternal City has its first female—and youngest—mayor in its almost 2,800-year history. This impressive title goes to Virginia Raggi, the 38-year-old attorney of the Five Star Movement and her party won a landslide victory. Politics aside, let's explore and learn who is she from a BaZi perspective.
Ms. Raggi's self element is strong Yin Metal 辛. Based on the Chinese Five Element cycle, Metal 金 born in the strongest Earth Month and surrounded by Earth 土 is strong. Therefore, her favorable elements are: Water 水, Wood 木, and Fire 火. Her unfavorable elements are: Earth 土 and Metal 金. Will these next 3 years show signs of trouble and hardship for Ms. Raggi with so much Metal 金 and Earth 土 showing up? We will have to wait and see.
Yin Metal 辛 women are generally quite beautiful since they are often compared to the jewels of the earth. They are loyal, cunning, bright, and graceful. Their sense of self is often defined by how they appear to the rest of the world. Therefore, they behave and interact with others with more reservation and with more deliberate intention. Also, Yin Metal 金 quality is also a small dagger; hence, they can sometimes appear quite sharp and harsh, easy to cut people off when they feel threatened or betrayed. Famous Yin Metal 辛 ladies include: Marilyn Monroe, Ivanka Trump, Angelina Jolie, Grace Kelly, Adriana Lima, Lady Gaga, Lana Del Rey, to name a few.
The Horse 午 in her Year Pillar represents her Peach Blossom, giving her a kind of charisma that makes her appear very charming, attractive, and engaging to people. In addition, she is in the luck of the Rabbit 卯 (age 33-43), also her 10-year Peach Blossom. And so, when you combine her in-born quality along with the current luck, it is no wonder she is attracting a lot of attention on herself, giving rise to her popularity and reputation.
A few interesting things to note about the mayoral election dates:
The first round of voting was on June 5th, which was a Horse 午 Day in the Horse 午 month (both Fire 火 Elements), and this Element represents her Power Element, demonstrating her high status, credibility, leadership, and qualified establishment. Note: The U.S. Presidential Election on November 8th is also a Power Element day for both Hilary Clinton and Donald Trump!
The second round of voting was on June 19th, still in the Horse 午 month (Fire 火 Element). The day element was Yang Water Monkey 壬申 (Water 水-Metal 金), also her favorable elements. Not to mention, the Horse 午 is her Nobleman; that's why, she has a lot of positive support and helpful people showing up to vote in her favor. In other words, these were very lucky days for her!
Her Four Pillars show that she has a lot of Resources Element, indicating she is considerate, thoughtful, and polite. Her Self Element sits on the string of Summer Earthly Branch 地支: Snake 巳, Horse 午, Goat 未 — very strong Power Element. It's not wonder she has chosen the field of law and politics.
Her Luck shows a lot of Money Elements. While this year and the coming two years may prove to be quite difficult for her, especially on topics she has campaigned to reform, 2019 Pig 亥 Year may be fruitful and profitable, and the relief she will seek after a tough couple of years. In 2017, she should be careful not to draw any negative attention when the Peach Blossom Year of the Rooster 酉 clashes with the Peach Blossom Luck of the Rabbit 卯. The Metal 金 year–her unfavorable element–may give rise to some tension within the community of supporters as well as with her job and her spouse. And so, her sudden rise to fame and the "honeymoon" phase may be short-lived.
More to come! And Happy Learning!
www.FengShuibyJen.com | [email protected]
Copyrighted © 2016 | Feng Shui by Jen™ | All Rights Reserved | Materials may not be copied, translated, or distributed without prior written consent.